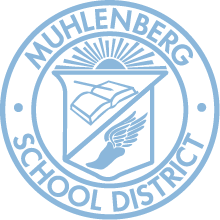 Welcome to the Muhlenberg School District

Dear Muhlenberg School District Community Members:

We are excited and energized for the 2019-2020 school year. As seasons change with time, we also as human beings change with time. One item for certain is our commitment to providing quality services for our children. In April of 2014, after careful research and assimilation of qualitative and quantitative data, we presented a holistic plan, our Blueprint for Success. This visionary template serves as guidance for creating opportunities for our children. Since 2014, several components of this plan have emerged resulting in programs and activities for our students. Simply, our Blueprint is our cornerstone and it is galvanizing our school system. You will also find Muhlenberg School District's Action Plan was presented publicly in May of 2017. This concentric and systemic Action Plan will provide pathways of empowerment and operations for our District enterprise; also, feel encouraged to review my message on the Superintendent's link.

Each parent, guardian and, especially your children who are our students, are our most valuable resources. Our mission is to educationally empower and model humanistic qualities so our children can experience a meaningful and happy life, even with all of life's obstacles.

Please review the Blueprint and concentric Action Plan for continuous improvement. Your contributions towards this journey are certainly welcome.

I wish you the very best within the spirit of the Muhlenberg School District.

Joseph E. Macharola, Ed D.
District Headlines & Features
To promote the continuation of teaching and learning despite circumstances that interrupt normal school attendance for all students. Promover la continuación de la enseñanza y el aprendizaje a pesar de las circunstancias que interrumpen la asistencia escolar normal para todos los estudiantes.

Information regarding the Opportunity Scholarship Tax Credit Program can be found in the following document.

Watch Muhlenberg School District events live on our new Ustream Channel.

Muhlenberg School District will be utilizing a new statewide school safety program called Safe2 Say Something, run through the cooperation of the Sandy Hook Promise Organization. This program is designed to provide students, staff, and parents with 3 different options to report suspected or potentially dangerous situations anonymously to school and law enforcement officials.

Act 39 of 2018 adds a new Section 742 to the school code that relates to lead testing of drinking water in schools. Beginning with the 2018-2019 school year and every year thereafter, schools may test for lead levels in the drinking water.

High-quality health care coverage from CHIP helps keep kids strong

The new eSchoolPlus Family App from Sungard K-12 Education is now available. The app is a mobile device version of the Home Access Center.

We know that many students and their families depend on the Internet, whether at school or at home, so they can do homework, search for jobs, access financial or government services and much more. As an educator, I know that having the Internet at home is critical to ensuring that your child can stay connected to online assignments, classmates and teachers.

Muhlenberg School District is pleased you are considering volunteering your time to assist the staff and students of the district.

If you are having problems with the mass notification calls.
Announcements
For information on Class of 2020 Awards and Schloarships click here

Details on the the 2020 Muhlenberg High School Graduation Ceremony can be found by clicking here

View the Muhlenberg High School Virtual Art Show at the following link:

4-21-2020

Muhlenberg High School is a National 2020 Best High School! This is based on rankings that US News and World Report published this morning by earning a national ranking in the top 40%!!! This is the first time ever the high school has been awarded this permanent distinction! I am so proud of Principal Mish, Assistant Principal's Morris, Moyer (AD) and Schaeffer, our great faculty and staff, parents and especially our students K through 12 who have helped to cultivate this incredible accomplishment!!


Our investments over the past seven years in literacy, math, science, technology, and professional learning connected to our Blueprint For Success and Action Plan, wrapped in a meaningful culture - family and spirit - have guided us and are paying off!!!

Congratulations to all of you !!!

If you have a non-Chromebook/iPad hardware related issue such as trouble logging into an account or use of software, please reach out to your teacher first. If they are unable to help you, please email 1to1help@muhlsdk12.org. If your issue is hardware related (your device is broken and not usable or you need a device), please fill out the Technology Help Form with as much information as possible so we can best assist you. Please enter the email address you would like us to use to contact you. This will be how we coordinate a time to assist you.

You will be notified when a repair/swap is available for drop off or pickup.

For the latest Muhlenberg School District COVID-19 information click here.

Effective Monday, March 16, 2020, Comcast is offering 2 months free to new Internet Essentials customers in response to recent and anticipated emergency measures associated with the Coronavirus (COVID-19). Click here for more details.