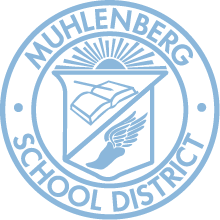 Welcome
Welcome to the Muhlenberg Middle School web site. The Muhlenberg Middle School is a learning community consisting of more than 850 students serviced by over 90 staff members. Our school is very proud of our high standards in academics, athletic programs and performing arts programs.
Announcements
The Middle School Office hours for the summer are: June 12 - August 11 Monday thru Thursday 7:30 a.m.- 4:00 p.m.

Early dismissals at the middle school are 11:12. Dismissal time for December 21 and June 7 will be 11:39

First student day for the 2017-2018 school year is Monday, August 28

Please have your student bring a note to the main office for all early dismissals. A note will have your student in the office waiting for you for early dismissal.

Applications for Free/ Reduced Lunch are available on the Muhlenberg Homepage website. "Administration/ Food Services".