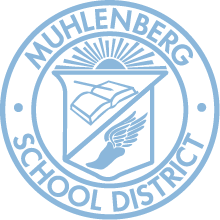 Welcome
Welcome to the Muhlenberg High School web site. The central purposes of Muhlenberg High School are to provide a quality education for students according to their current levels of ability and achievement, to help students achieve their maximum potentials, and to aid students in understanding and appreciating our democratic society. It is the responsibility of the school to its community to nurture in its students a sense of belonging and cohesiveness to the community, to produce good citizens, and to provide direction where needed. Concomitantly, the school looks to the community for its financial and moral support. It expects the community to provide general direction for its education program through its Board of Education.
Announcements
For information on the Class of 2020 Awards and Scholarships click here.

Class of 2021 Portraits - Two session options are available. One option is the no charge option which we will take six to eight images. We will select the best image, retouch and forward directly to the yearbook staff. The other option is the twenty dollar session fee. With this option, the student has the opportunity to wear a total of three outfits if they wish. One being yearbook appropriate, the other two can be completely of their choosing. They may also bring props such as sports items, musical instruments, etc. Those images will then be posted to a secure web link for them to view, select their yearbook image, and purchase prints if they wish.

Class of 2021 sign up link:

https://www.signupgenius.com/go/4090F4EA5A72FA3F49-senior

Class of 2020 may pick up the pictures they had taken at graduation in the main office. Office hours are Monday thru Thursday 7:30 to 4:00.