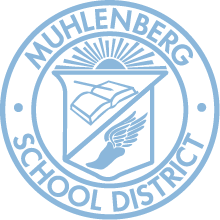 Welcome to the Muhlenberg School District

Dear Muhlenberg School District Community Members:

We are excited and energized for the 2019-2020 school year. As seasons change with time, we also as human beings change with time. One item for certain is our commitment to providing quality services for our children. In April of 2014, after careful research and assimilation of qualitative and quantitative data, we presented a holistic plan, our Blueprint for Success. This visionary template serves as guidance for creating opportunities for our children. Since 2014, several components of this plan have emerged resulting in programs and activities for our students. Simply, our Blueprint is our cornerstone and it is galvanizing our school system. You will also find Muhlenberg School District's Action Plan was presented publicly in May of 2017. This concentric and systemic Action Plan will provide pathways of empowerment and operations for our District enterprise; also, feel encouraged to review my message on the Superintendent's link.

Each parent, guardian and, especially your children who are our students, are our most valuable resources. Our mission is to educationally empower and model humanistic qualities so our children can experience a meaningful and happy life, even with all of life's obstacles.

Please review the Blueprint and concentric Action Plan for continuous improvement. Your contributions towards this journey are certainly welcome.

I wish you the very best within the spirit of the Muhlenberg School District.

Joseph E. Macharola, Ed D.
District Headlines & Features
To promote the continuation of teaching and learning despite circumstances that interrupt normal school attendance for all students. Promover la continuación de la enseñanza y el aprendizaje a pesar de las circunstancias que interrumpen la asistencia escolar normal para todos los estudiantes.

Information regarding the Opportunity Scholarship Tax Credit Program can be found in the following document.

If you are having problems with the mass notification calls.

Watch Muhlenberg School District events live on our new Ustream Channel.

Muhlenberg School District will be utilizing a new statewide school safety program called Safe2 Say Something, run through the cooperation of the Sandy Hook Promise Organization. This program is designed to provide students, staff, and parents with 3 different options to report suspected or potentially dangerous situations anonymously to school and law enforcement officials.

Act 39 of 2018 adds a new Section 742 to the school code that relates to lead testing of drinking water in schools. Beginning with the 2018-2019 school year and every year thereafter, schools may test for lead levels in the drinking water.

High-quality health care coverage from CHIP helps keep kids strong

We know that many students and their families depend on the Internet, whether at school or at home, so they can do homework, search for jobs, access financial or government services and much more. As an educator, I know that having the Internet at home is critical to ensuring that your child can stay connected to online assignments, classmates and teachers.
Announcements
Dear Parents/Guardians of English Language Learners in Grades K-12,

You may have or will be receiving a letter by mail that is to inform you that the PA Department of Education has mandated that school districts administer the WIDA ACCESS for ELLs assessment IN PERSON with all English learners from starting Tuesday March 9, 2021 through April 15, 2021. This assessment is administered every year to help school districts monitor the English language development of students identified as English language learners. The test measures students' abilities to understand and produce English used within school settings.

Please call Ms. Elizabeth Laviena, 610-921-8000 x7303 or email lavienae@muhlsdk12.org by Monday March 8, 2021 to confirm your child's testing date. When we return to in-person instruction, your child's testing date will coincide with a day they are in-person. If you have chosen for your child to remain virtual, the child still needs to take the assessment IN PERSON, per the PA Department of Education. We will have a secure area where your child will be individually tested by an ESL teacher.

When you call or email, please give your child's name, parent/guardian name and phone, and how your child will come to school for testing. Only those eligible for bussing will be bussed for testing. If you have opted out of in person instruction and do not want to bring your child in for testing. We will send you a form to sign that confirms we offered your child the test and you have opted them out.

Thank you,

Muhlenberg School District Director of ESL,

Ms. Cathy A. Shappell

Estimados Padres / Tutores de Estudiantes del Idioma Inglés Como Segundo Lenguaje en los grados K-12:

Es posible que tenga o recibirá una carta por correo para informarle que el Departamento de Educación de Pensilvania ha ordenado que los distritos escolares administren la evaluación WIDA ACCESS for ELLs EN PERSONA con todos los estudiantes de Inglés Como Segundo Lenguaje desde el martes 9 de marzo de 2021 hasta el 15 de abril 2021. Esta evaluación se administra todos los años para ayudar a los distritos escolares a monitorear el desarrollo del idioma inglés de los estudiantes identificados como aprendices del idioma inglés. La prueba mide las habilidades de los estudiantes para comprender y producir el inglés que se usa en el entorno escolar.

Llame a la Sra. Elizabeth Laviena, 610-921-8000 x7303 o envíe un correo electrónico a lavienae@muhlsdk12.org antes del lunes 8 de marzo de 2021 para confirmar la fecha del examen de su hijo/a. Cuando regresemos a la instrucción en persona, la fecha de la prueba de su hijo/a coincidirá con el día en que esté en persona. Si ha elegido que su hijo/a permanezca virtual, el niño aún debe realizar la evaluación EN PERSONA, según el Departamento de Educación de Pensilvania. Tendremos un área segura donde su hijo/a será evaluado individualmente por un maestro de ESL.

Cuando llame o envíe un correo electrónico, proporcione el nombre de su hijo/a, el nombre del padre / tutor y el teléfono, y cómo vendrá su hijo/a a la escuela para la prueba. Solo aquellos elegibles para el transporte en autobús serán transportados en autobús para la prueba. Si ha optado por no recibir instrucción en persona y no desea traer a su hijo/a para que lo examinen. Le enviaremos un formulario para firmar que confirma que le ofrecimos la prueba a su hijo/a y que usted lo excluyó.

Gracias,

Director de ESL del Distrito Escolar de Muhlenberg,

Sra. Cathy A. Shappell

__________________________________________________________________

Click here to view a special message from Muhlenberg School District Superintendent Dr. Joseph Macharola on 02-08-2021.

Mensaje Importante de Parte de nuestro Superintendent el Dr. Joseph Macharola (Spanish)

________________________________________________________________________

Click here to see the results of the January 2021 Parent Return to School Survey.

____________________________________________________________________

Return to School Updates

Cole Intermediate -

Middle School -

High School -

__________________________________________________________________________

WIDA Parent Infromation Night Video

_______________________________________________________

March School Board Meetings


When: Mar 10, 2021 06:30 PM Eastern Time (US and Canada)
Topic: March Muhlenberg School District Board Meetings

Please click the link below to join the webinar:
https://zoom.us/j/93100728090?pwd=VU9MSndtVDF1QmZNbFAxMmxZK3JVUT09
Passcode: 466457
Or iPhone one-tap :
US: +13017158592,,93100728090# or +13126266799,,93100728090#
Or Telephone:
Dial(for higher quality, dial a number based on your current location):
US: +1 301 715 8592 or +1 312 626 6799 or +1 646 558 8656 or +1 253 215 8782 or +1 346 248 7799 or +1 669 900 9128
Webinar ID: 931 0072 8090
International numbers available: https://zoom.us/u/a94U1V03E




Parents and Guardians,

As of September 21, 2020, the PIAA has transferred decision making abilities to school districts as it pertains to spectators in attendance at Fall athletic contests. We have measured out our venues in order to determine a safe number of spectators that we can permit that will still allow for us to maintain social distancing and safety measures. We will be providing each team with passes that can be distributed to parents and family to allow for them to attend, along with at least 1 pass for parents of opposing teams. We will NOT be selling tickets for any contests this Fall, and will not be allowing for walk up attendees either. This is to ensure that our parents and guardians will have access to attend their childrens' games. For safety reasons, we feel strongly that at least one parent should have access to attend in the event of injury to their child. We will also communicate to our teams in advance when opposing teams inform us about the number of visiting spectators they will allow at their venues. Please contact the Athletic Office with any questions. Thank you in advance for your cooperation and patience as we continue to move forward in these unprecedented times.

Dr. Moyer

Athletic Director

__________________________________________

To view a copy of the Muhlenberg School District Health and Safety Pandemic Plan click here

For the latest Muhlenberg School District COVID-19 information click here.