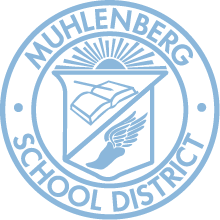 Welcome
Welcome to the Muhlenberg Junior High School web site. The Muhlenberg Junior High School is a learning community consisting of more than 1000 students serviced by over 90 staff members. Our school is very proud of our high standards in academics, athletics and performing arts programs.
Muhlenberg Middle School Buy a yearbook or ad here. This year's memories are being captured in the Muhlenberg Middle School yearbook as they happen. Buy online now.
Announcements
END OF 2ND QUARTER

The end of the second marking period is Friday, January 21, 2022. Report cards will be available for viewing on Infinite Campus on Wednesday, February 2, 2022 at 3:00 p.m.

MJHS Science Fair

The Junior High School Science Fair will be held on Tuesday, February 1st. Project drop off will be on Monday, January 31st from 3:15-6:00 p.m. Projects will be displayed in the LGI ROOM AND LIBRARY. Please enter by the main office when dropping off projects **Judging will take place on 2/1 between the hours of 8:15 a.m and 2:30 p.m. Judeges please also enter by the main office. The Science Fair will be open to the public on 2/1 from 5:00-6:00 p.m. and projects must be picked up on Wednesday, February 2nd from 3:15-6:00 p.m. We hope you can join us to admire our young scientist's hard work!

Join the Muhlenberg Junior High School's Class Dojo page. Stay connected to all of your child's teachers. Class Dojo is a great way to communicate with the school!