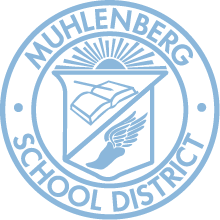 Welcome to the Muhlenberg School District

Dear Muhlenberg School District Community Members:

We are excited and energized for the 2022-2023 school year. As seasons change with time, we also as human beings change with time. One item for certain is our commitment to provide quality services for our children. Our high school has been identified as a NICHE standout high school, ranking among the best in the United States of America. The previous two years, U.S. News and World Report ranked and identified our high school as one of the nation's best. These two distinctions are a result of a districtwide systemic plan (K-12) which has been embraced by our faculty and staff over the past nine years.

In April of 2014, after careful research and assimilation of qualitative and quantitative data, we presented a holistic plan, our Blueprint for Success. This visionary template serves as guidance for creating opportunities for our children. Since 2014, components of this plan have emerged resulting in programs and activities for our students. Simply, our Blueprint is our cornerstone and it continues to galvanize our school system with the Muhlenberg School District's Action Plan which was presented publicly in May of 2017. This concentric and systemic Action Plan has provided pathways of empowerment and operations for our District enterprise; In April of 2021, we publicly shared our Post Pandemic Action Plan which encompasses three phases to promote and address the critical needs of our students socially and emotionally as we emerge from the pandemic. Muhlenberg School District embraces the multicultural and diverse needs of our growing community. Our culture is centered whole-heartedly around a clear and defined mission. I encourage you to review my message on the Superintendent's link.

Each parent, guardian and, especially your children who are our students, are our most valuable resources. The health and safety of all students and staff is of steadfast importance and ardent focus. For over thirty-five years, parents and guardians consistently ranked the safety of their children first above all other considerations which includes academics and activities according to national polls and surveys. Please see our Health and Safety Plan for our district. Our mission is to educationally empower and model humanistic qualities so our children can experience a meaningful and happy life, even with all of life's obstacles.

Please review the Blueprint, the concentric Action Plan and the Post Pandemic Action Plan for continuous improvement. Your contributions towards this journey are certainly welcome.

I wish you the very best within the spirit of the Muhlenberg School District.

Joseph E. Macharola, Ed D.
Announcements
Muhlenberg School District ARP ESSER funds intended use plan.




---

Effective Monday, March 16, 2020, Comcast is offering 2 months free to new Internet Essentials customers in response to recent and anticipated emergency measures associated with Coronavirus (COVID-19). Click here for more details.

---

COVID-19 Information

For the latest Muhlenberg School District COVID-19 information click here.

---

Infinite Campus Parent Portal account creation video

Video de creación de cuenta del portal para padres de Infinite Campus

__________________________________________________________
District Headlines & Features
If you are having problems with the mass notification calls.

We know that many students and their families depend on the Internet, whether at school or at home, so they can do homework, search for jobs, access financial or government services and much more. As an educator, I know that having the Internet at home is critical to ensuring that your child can stay connected to online assignments, classmates and teachers.

To promote the continuation of teaching and learning despite circumstances that interrupt normal school attendance for all students. Promover la continuación de la enseñanza y el aprendizaje a pesar de las circunstancias que interrumpen la asistencia escolar normal para todos los estudiantes.

The Emergency Broadband Benefit (EBB) program, which will provide free Internet to qualifying low-income households during the COVID emergency, will begin accepting enrollments on Wednesday, May 12, 2021

Come check out our MSD Summer Style Videos

Check out the pictures from Muhlympics 2022! Our children had a wonderful time. Thank you to all of our administrators, teachers and staff for all your hard work and dedication to our children. Thank you Pryscilla Figueroa for these wonderful pictures and memories.

Muhlenberg School District will be utilizing a new statewide school safety program called Safe2 Say Something, run through the cooperation of the Sandy Hook Promise Organization. This program is designed to provide students, staff, and parents with 3 different options to report suspected or potentially dangerous situations anonymously to school and law enforcement officials.