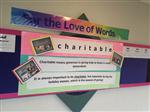 Phone:
Email:
Degrees and Certifications:
Dr.

Argyro S. Elliker

Salutations!

We

lcome to WOW Headquarters, the home of the WOW (Word of the Week)!

My colleague, Leslie Angelucci and I, are privileged to participate with our students in a myriad of literacy activities during a typical MEC or C.E.Cole school day at WOW Headquarters. In addition to encouraging students to become the best readers, writers and thinkers they can be, we also engage the students in a plethora of opportunities to promote the love of words and literacy.

WOW Headquarters serves as the school's newsroom where announcements are written as well as broadcast. Each day students participate in the morning announcements. Fourth grade students have the honor of leading the school in the Pledge of Allegiance each morning, while students in designated grades serve as "WOW Sentence Readers." Students in any grade may be selected as "WOW Sighting Detectives," sharing their WOW finds from home or school. It is truly a beautiful sight to see students seated with bountiful eagerness as they await their turn to speak into the microphone!

Additionally, each week a student is selected to record and debut the WOW which is broadcast over the airwaves of WEEU Radio every Monday morning at 7:20am. A very special broadcast occurs in January and June when the winning student of the Winter WOW Frolic Challenge and the winning student of the Spring Frolic Challenge, reads his or her winning entry over the airwaves of Berks County.

Every Friday, WOW Headquarters gets to witness some exceptional WOW Detectives donning WOW capes. WOW Cape Winners are announced and called down to WOW Headquarters. Students are selected based upon significant engagement with WOW activities during that week. Additionally, teachers are also honored with the coveted WOW cape as well!