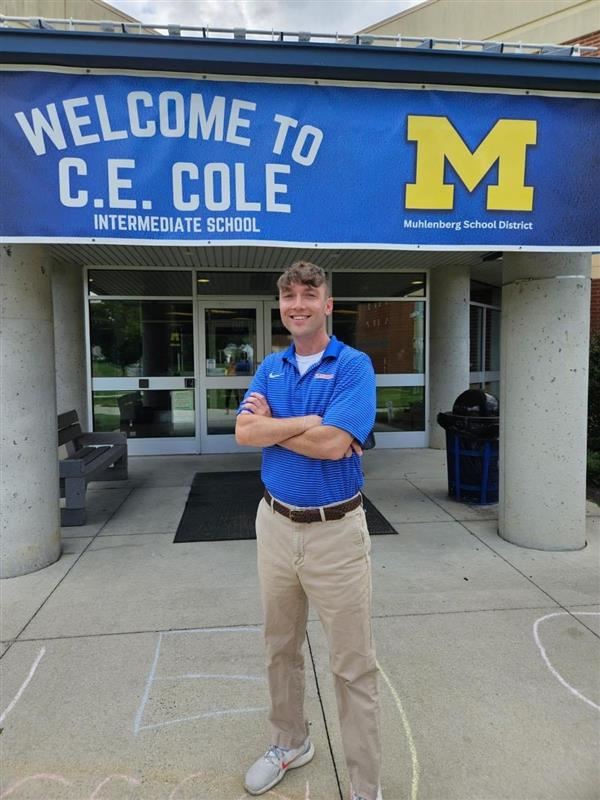 Thank you for welcoming me to the Muhlenberg School District Community, as we all embark on the 2023-2024 academic school year together at C.E. Cole Intermediate School! I am so proud to work for a school district that values educational achievement, historical community traditions, and extracurricular activities that all help shape the MSD. My grandparents have lived in the Muhlenberg School District (Hyde Park) for over 50 years. My father, and his four siblings grew up here and always called Muhlenberg "home". I am so excited to join the team at C.E. Cole, to meet our outstanding students and families, and to call Muhlenberg my new home!
My years of teaching and coaching in the Reading School District, at both Glenside Elementary and Southern Middle, have provided me with unique experiences in grades preK through 8. For the past two school years, I have worked in administration at Daniel Boone Area School District, where I served as Assistant Principal at the high school (grades 9 through 12). Combining these two educational experiences have awarded me a special insight into the full educational journey of our students. I wish to continue to be an administrator here at MSD, where students, families, staff, and community members can share with me your challenges, growth, and victories.
I am a lifelong learner, and understand the importance of comprehending the complex and ever-changing world of education. I received my Bachelor of Science in Education at Kutztown University majoring in Special Education, Elementary Education, and History. As I began teaching and coaching at Reading SD, I attended graduate school in the evenings at Alvernia University and earned my Master of Education focused on Teaching English as a Second Language. I then began taking online courses through Immaculata University to become certified as a preK-12 school administrator. Currently, I am a doctoral student online at the University of Florida, where I am studying Educational Leadership and Administration.
High-quality education is personal to me, and I will strive each day to make sure your child receives that at our intermediate school. My grandparents immigrated to the United States from Italy without education, money, employment, or the ability to speak English. They worked hard and were able to provide for their family. They instilled this drive and work ethic in my mother, who was the first in our family to earn her education, and eventually her Ph.D. That is the American Dream. My mother was a teacher for 31 years before retiring and loved every day of her experience working with children.
I am extremely excited to begin this school year with our MSD community: students, teachers, staff, parents, guardians, and community members! Please feel free to reach out to me throughout the school year if I can be of any help.

Sincerely,

Mr. Joe Scoboria