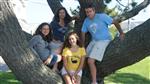 Phone: 610-921-8028
Email:
Degrees and Certifications:
Marcey Harman
I grew up in the Muhlenberg School District and graduated from Muhlenberg High School in 1983. I received my BS in elementary education from Bloomsburg University in 1987. After graduating from college I was hired to teach in the Reading School District where I taught for 4 years. In 1991 I was hired to teach second grade in the Muhlenberg School District. I received my Masters Degree in 1995 from Wilkes University. I enjoy participating in workshops and classes that allow me to meet the needs of my students.

I taught sixth grade my first year of teaching and I taught second grade for 24 years. This will be my seventh year teaching third grade. I have been enjoying this grade level very much! The learning, problem solving, and fun experiences should prove to make this an exciting year for all!

I am married to Karl Harman and have 2 daughters. In May of 2016 Kaley graduated from the Eastman School of Music in Rochester, New York where she studied vocal performance. In May of 2019 Kaley graduated from Penn State after persuing her masters degree in Vocal Performance. She is an opera singer and starting her career! My younger daughter Grace is excited to be starting her senior year in the Antietam School District. We have visited many colleges and are ready for a very busy 12th grade year. We have a puppy named Penny. She is an Australian Shepherd and was born on February 1, 2013. Penny adds much fun and joy to our home!

I truly enjoy teaching! Sharing math and science with my students is a great way to spend the day at MEC! I look forward to a fabulous year of fun and learning with my new group of third grade students!