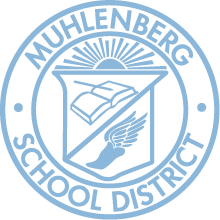 Welcome to the Muhlenberg School District
Dear Muhlenberg School District Community Members:
We are excited and energized for the 2016-2017 school year. As seasons change with time, we also as human beings change with time. One item for certain is our commitment to providing quality services for our children. In April of 2014, after careful research and assimilation of qualitative and quantitative data, we presented a holistic plan, our Blueprint for Success. This visionary template serves as guidance for creating opportunities for our children. Since 2014, several components of this plan have emerged resulting in programs and activities for our students. Simply, our Blueprint is our cornerstone and it is galvanizing our school system.
Each parent, guardian and, especially your children who are our students, are our most valuable resources. Our mission is to educationally empower and model humanistic qualities so our children can experience a meaningful and happy life, even with all of life's obstacles.
Please review the Blueprint and some of our steps to move our District forward. Your contributions towards this journey are certainly welcome.
I wish you the very best within the spirit of the Muhlenberg School District.
Joseph E. Macharola, Ed D.
District Headlines & Features
View photos from the Veteran's Day Breakfast help Friday. November 11th at the Muhlenberg Middle School

If a message is stopping mid-way through, it is probably due to Blackboard's answering machine detection software. Their system is set to detect noise on the other end of the line and pause the message until that noise is no longer detected. The system is set up that way so that if an answering machine picks up, the call will not play out before it can be recorded. Unfortunately, background noise or someone speaking into the receiver can sometimes cause the message to stop and restart. If a recipient would like start the message from the beginning, you can press 1. You can also call the replay line at 1-855-473-7529 to hear the last message that was sent to your phone number. If you are not receiving calls to the correct phone contact your child's school office (K-6) or guidance office (7-12).

The new eSchoolPlus Family App from Sungard K-12 Education is now available. The app is a mobile device version of the Home Access Center.

We know that many students and their families depend on the Internet, whether at school or at home, so they can do homework, search for jobs, access financial or government services and much more. As an educator, I know that having the Internet at home is critical to ensuring that your child can stay connected to online assignments, classmates and teachers.

Muhlenberg School District is pleased you are considering volunteering your time to assist the staff and students of the district.